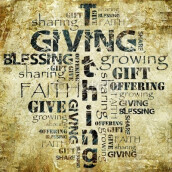 "Give, and it will be given to you: good measure, pressed down, shaken together, and running over will be put into your bosom. For with the same measure that you use, it will be measured back to you." Luke 6:38, NKJV
Supporting God's Work ...
does not require you to empty out your wallet or
mortgage your home. Even small donations of a
few dollars can go a long way to further the work
of this ministry. The amount is not important.
What's important is that we each do our part,
as God prospers us, to make sure God's ministry
has the resources required to serve the needs of
our Christian community.
Tithing
A tithe is a biblical obligation of the believer to support the work of the ministry and to help those in need. Tithing is the act of returning to God a portion of that which God has blessed us with. Tithing is an important ordinance intended to provide for the needs of God's work. It is every Christian's responsibility to tithe, to support their local churches and ministries and the work of the Lord. Tithing is our first duty and the church's first resource for its support and finance.
If you desire, you can donate via Zelle (download the Zelle app and enter 719-492-5019), Cash App (https://cash.app/$KSBCColorado)